Amarnath

Y

atra
Amarnath YatraA trek that is popular among both the treks and the pilgrims is the Amarnath trek that takes one to the sacred cave of Lord Amarnath,
one of the holiest naturally occuring shrines of Hindu faith. The stages of the yatra are carefully controlled by the Indian authorities. The first stage of the trek is to Chandanwadi, the second to Sheshnag and the third over the Mahagunas Pass to Panchtami. Many pilgrims visit the cave from Panchtami and return to Sheshnag the same day, walking back to Pahalgam on the fifth day.

Gulmarg Trekking

Gulmarg makes an excellent base for trekking in the northern Pir Panjal Range. Nanga Parbat can be seen to the north from several view points, including Khilanmarg, west and over 1,500 feet up the forested hillside from Gulmarg. From a distance, the Pir Panjal appears somewhat rounded, but when you are actually walking up its slopes, you will find that its smoother peaks rise above evergreen clad slopes that seem quite equal in steepness to those of the main Himalayas.
To the south of Gulmarg, a pleasant trek would be to walk up the Ferozepur Nala and beyond to the hamlets of Danwas, Tejjan, and to Samaidan. For this you will need a porter who knows the way because many stock trails intersect the route. The walk from Gulmarg to Tosamaidan is considered to be three stages long. You may return by way of Riyar and Khag villages or continue south toward Sunset Peak and then walk into the foothills along the Romushi Nala to Yusmarg, where a road and bus service connect with Srinagar.
Sonamarg Trekking
Sonamarg is the starting point of a major trek passing several mountain lakes - Vishansar, Kishansar, Gadsar, Satsar and Gangabal. One trek leads all the way to the Amarnath Cave.
Thajiwas Trek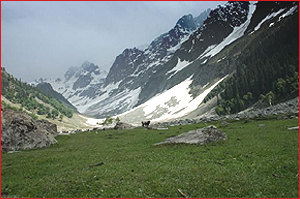 One of the most popular short walks from Sonamarg and a major attraction during the summer months is the 4-km route to Thajiwas, a small valley at the foot of the Sonamarg glacier. A path leads up to the Shakhdar hill, overlooking the glacier from the northeast. It is dangerous to climb the steep slope leading up to the glacier. Ponies can be hired for the trip up to Thajiwas glacier.
Trek From Sonamarg To The Valley Via Gangabal Lake
A fine trek west of Sonamarg is to cross the Nichinai pass to Gangabal Lake. As always, you would do well to have a local to accompany you. To reach the trailhead, go 2 miles down valley from Sonamarg toward Srinagar to the bridge below the tightly clustered houses of Shitkari village, where the road crosses the Sind River. Across the river from this small village, begin walking on the true Right Bank to the lakes called Krishan Sar and Vishan Sar, and beyond to Gangabal Lake near Haramukh, the highest peak in the vicinity of the Kashmir valley.