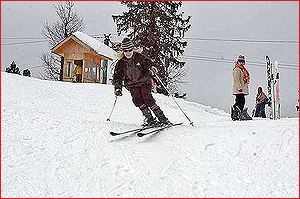 Skiing Gulmarg - a wonderful combination of incredible Curry powder skiing and the unique Hospitable Kashmiri culture - Which Makes it one of the world's Most Adventerous & Memorable skiing experience one can ever have.
Gulmarg is located 56-km ( 35 miles ) south west of Srinagar, Gulmarg is a mountain shelf which nestles under the protective 4124 metre height and 5 km spread of Mount Apharwat. Gulmarg is a small isolated hill-village situated in the northern Indian state of Jammu and Kashmir at the western extremity of the Himalayas in a subsidiary range called the Pir Panjals. Gulmarg is also know for the competitive tournament of skiing in festive season like Christmas and Easter.

Due to its geographic location Gulmarg gets some of the heaviest snowfalls in the Himalayas and it has earned the distinction of being the best ski resort in the Himalayas. Skiing was first introduced to Gulmarg by two British Army officers who established the first ski club in 1927 although it wasn't until 5-6 years ago when Gulmarg's name really first started to appear on the cognoscenti's hotlist!