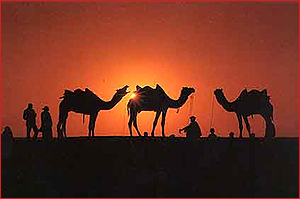 Rajasthan is the largest state of India in terms of area. The region borders Pakistan to the west, Gujarat to the southwest, Madhya Pradesh to the southeast, Uttar Pradesh and Haryana to the northeast and Punjab to the north.Rajasthan covers an area of 342,239 km.The state capital is Jaipur. Geographical features include the Thar Desert along north-western Rajasthan.

One of the world's oldest mountain ranges, the Aravalli Range, cradles the only hill station of Rajasthan, Mount Abu, and its world-famous Dilwara Temples, a sacred pilgrimage for Jains. Eastern Rajasthan has two national tiger reserves, Ranthambore and Sariska, as well as Keoladeo National Park near Bharatpur, once famous for its bird life.

Rajasthan was formed on 30th March 1949, when all erstwhile princely states ruled by Rajputs, known as Rajputana, merged into the Dominion of India. The only difference between erstwhile Rajputana and Rajasthan is that certain portions governed directly by the British Raj, in the former province of Ajmer-Merwara, were included. Portions lying geographically outside of Rajputana such as the Tonk state were given to Madhya Pradesh.

Rajasthan is home to many courageous heroes, admired for their courage, strength and determined struggles. A few popular heroes are Bappa Rawal, Rana Sangha, Pratap Singh and Prithviraj Chauhan.

The exotic and vividly colorful state of Rajasthan India is synonymous with majestic forts, stately palaces, lakes, sand dunes, camels and people dressed in brightly-colored costumes. The state remains a key destination in the itinerary of most tourists. Rajasthan - erstwhile Rajputana - was under the sway of the indomitable Rajputs for over a 1000 years. Rajasthan India tourism highlights the kaleidoscope images of the princily state which conjures up - from the imposing forts and delicate palaces in Jaipur and Jodhpur, the lake cities of Udaipur and Pushkar, the painted towns of Shekhawati, the sand dunes of Jaisalmer to the national parks of Ranthambore, Bharatpur and Sariska - dazzle tourists from the world over. A fascinating array of handicrafts is available here as well. Dance, music and theatre are intertwined with the daily lives of the people. Last but not the least, Rajasthan's delicious, spicy cuisine is not to be missed. After such an appetizer, who can resist the temptation of discovering more about the breathtakingly beautiful state of Rajasthan India.